The Inn at Mountain View Farm
About Us
Start the day with a yoga stretch in the peaceful and beautiful environment of the Mountain View Farm. The historic threshing barn, recently renovated, is the perfect venue for an uplifting, feel good experience.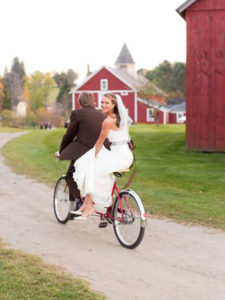 Only 4 miles from Interstate 91, the inn is conveniently located only 3 hours from Boston, 2 hours from Montreal, and 6 hours from New York City. Our 14 gracious guest rooms and luxury suites offer a compelling reason to 'get away from it all.'
The inn is a popular choice for Vermont weddings. Our historic property is the perfect venue for those seeking a rustic barn wedding, and The Inn also offers a peaceful, private setting for private functions like family reunions, business meetings, corporate retreats, private parties, and memorial services.
Nearby attractions include Fairbanks Museum & Planetarium, Cabot Creamery, Stephen Huneck's Art Gallery & Dog Chapel, antique shops, St. Johnsbury Golf Course, swimming, canoeing and kayaking on pristine lakes and more. For a taste of France, Canada is just 45 minutes away.
To reserve your stay at the Inn at Mountain View Farm, please call (802) 626-9924 or book your room online through our online reservation system.
The Inn at Mountain View Farm
Reviews
``...impressively situated on a high ridge, with huge views... The rooms are wonderful... incredibly comfortable, entirely unpretentious, and blessedly absent of television or telephone.`` - American Way
Read More Reviews